Sorry it has taken so long to publish the second installment of the Italy trip, work has been pretty challenging for a solid month and is finally getting tamed down again.
Our train from Venice to Rome was full of American tourists and honeymooners from Venice to Florence; then became less crowded approaching Rome where we transferred to EuroStar 9515 to Napoli Centrale.
At Naples we were met on the train platform by Antonio, our arranged van driver, who showed us to his minivan and drove us to the
Hotel Gardenia in Sorrento acting as tour guide along the way. He even stopped briefly at a scenic overlook to let us get out and photograph Sorrento, Sant Agnello, Piano di Sorrento, and Meta from the cliffs to the East, and gave us a quick tour of his favorite places in Sorrento.
Sorrento Peninsula from the road:

Hotel Gardenia is very modern, very cramped, and right on a very busy street over 1.1 kilometers from the center of Sorrento along the suicidally busy Corso Italia. The hotel website flat out lies when it claims 500 meters from the central square, 500 is not anything close to 1100 meters. It has no laundry service!!! Ugh… It is not as close to the train station as we were told it would be, station and square are both about a 20 minute walk down a suicidally busy street.
This is the view from our balcony if you gaze alongside the building:

The hotel Internet access, while free, is frustrating. Web based userids and passwords that cannot maintain session for very long and must be logged into every few minutes.
The hotel staff did recommend Il Leone Russo, which turned out to be an excellent choice, if a bit crowded and noisy. Delicious meal and wine, and complementary Limoncello afterwards, I think because we ordered four healthy meals and a bottle of wine and four apéritifs.
May 10th:
Hotel Gardenia breakfast is a relief, protein without gluten, huzzah! We caught the Circumvesuviana train from Sorrento to Pompei Scalvi; and ended up waiting a long time at Meta for trains to clear the tunnels ahead of us. Pompeii is large and hilly and hot and dusty. We went to the Baths, the Forum, the Temple of Apollo, and the Villa of the Mysteries and hopefully our photos come out.
Villa of the Mysteries, Pompeii: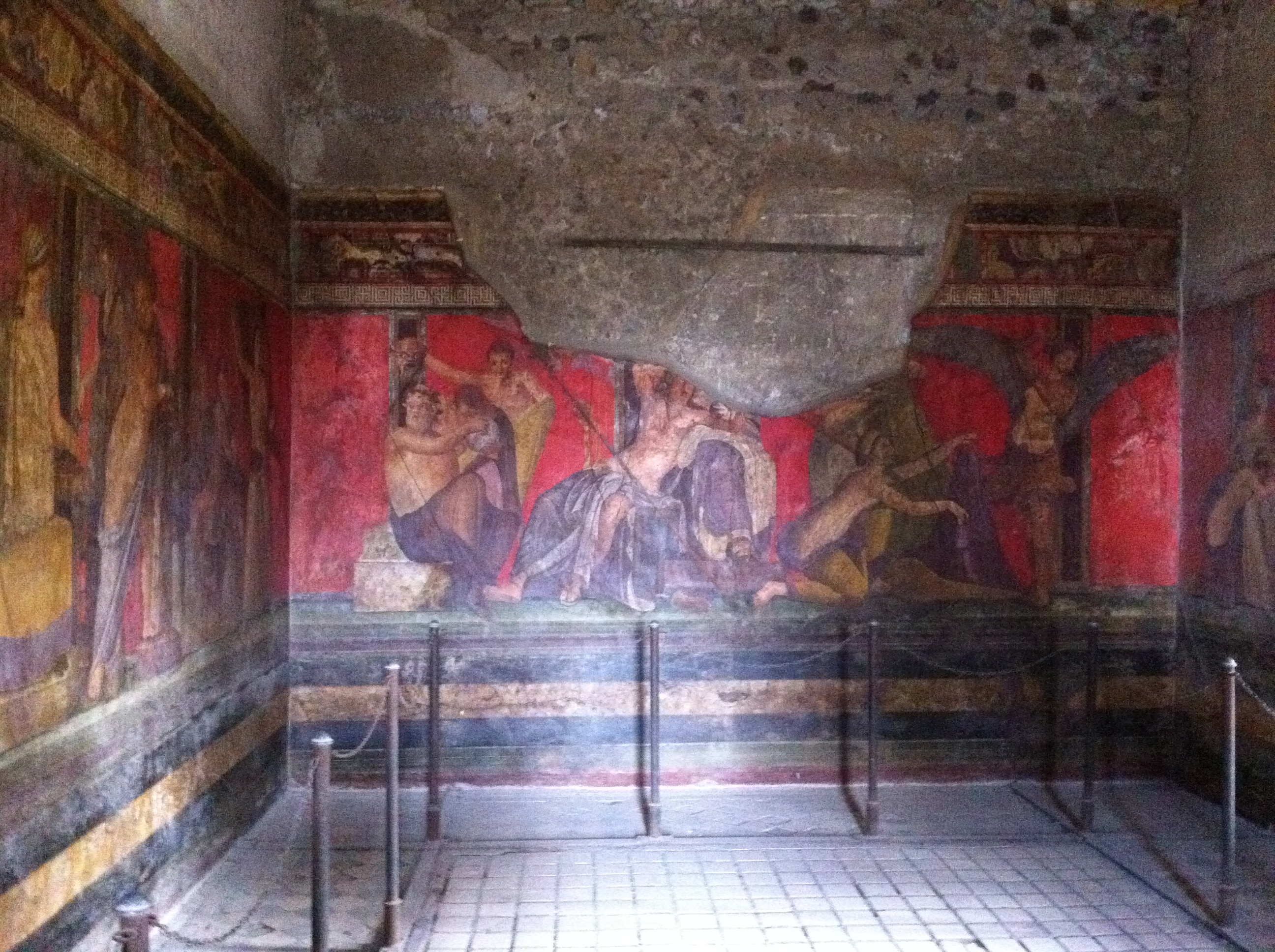 We lunched at Bacco e Arianna right outside the back gate to Pompeii and enjoyed the caprese salads, melon and prusciutto salads, and salami antipasto. We caught the train back to Sorrento, once again being held up at the tunnels.
We braved the busy and loud streets back to the hotel and napped, after cooling off by the pool (too cold to swim, but it is nice enjoying the breeze under the lemon trees and palms).
Hotel Gardenia Pool:

I figured out some of the problems with the internet system here, it is timed, and your browser must allow a pop-up with the timer and the logout button to display; normally my browsers block pop-ups… now that I am allowing theirs I can end a session rather than using up all my allotted time and I can more easily switch from computer to phone to ipad for access. Logging in frequently is still annoying, but mitigated some with a note with the strings to cut and paste. Connections are just slow.
Dinner at Il Buco was fantastic. I really need to order what Sutragirl's Dad orders; he continues to get fantastic dishes at every restaurant we go to. Beautiful restaurant, fantastic service, and excellent food. We tried dark grappa after dinner and enjoyed it, apparently grappa, like tequila, vodka, and soju, is getting more refinement and attention these days. The lighting in the restaurant and in the bathrooms was stunning; they have mastered elegant, indirect lighting in some of the finer restaurants in Italy to levels I have never seen before. Beautiful and amazing.
The 20 minute walk back to the hotel was more pleasant as it was so late that traffic had mostly died down, thankfully.
May 11th:
Up way too early for vacation to catch a pre-paid excursion to Herculaneum. Having done that once, I will not join a guided tour without knowing the size of the tour group up front. Our group was far, far too many people for the guide to keep track of and we could not all fit around any one site or room in the ruins. Tour groups should never be so damned large; too large a group to see anything but the other members of the group. Photos were virtually impossible and we spent most of the tour waiting for the group to assemble and reassemble. Most of the guided tours are separate from the site fee itself, so you end up paying for the site anyway and the bus was much slower than trains, even if the views from the bus were more spectacular. Herculaneum is great, but you can skip the excursion tours and take the train and hire a guide if you must, but only for a group of 4-8 people; not for 60 people.
Herculaneum:

Once back in Sorrento, we grabbed a bit from the first tourist trap with shaded seating, and regretted it later. It pays to know ahead of time where you want to eat. We walked around Sorrento's small old quarter a little bit and feel much better about the town now that we have. It is overpriced tourist shop after tourist shop, but the motor vehicle traffic is restricted and traffic is almost nil; making for vastly more pleasant walks around the shops and restaurants.
The really long walk along Corso Italia and noisy location of Hotel Gardenia is really beginning to wear on me. There are several hotels much closer to the train station, the tour bus excursion departure point, and the restaurants and shopping. Hindsight is 20/20, and I wish we'd been steered to a better location. Without scooters or a car; this location is no good.
Dinner at La Pizza del Poeta was fantastic; this may be my personal favorite meal of the trip. Shrimp on tomatoes with capers and chili oil, followed by scallopini in lemon sauce… Amazing wines in a local white and a chianti, and a licorice flavored drink to finish the meal, which was much better than ouzo or rake; and different than the better limoncellos we have had.
May 12th
Enjoyed a glorious sleep in, not meeting for a leisurely breakfast at the hotel until 9:30. The we walked to Piazzo San Antonio to catch a bus to Marina Piccolo, stopping at several tobacconist shops on the way and they were all sold out of bus tickets. Odd, and frankly, suspect. The bus driver took our Euros anyway.
At Marina Piccolo an English honeymooning couple I have met a few times at our hotel pool showed to me a fascinating iOS application on his iPhone called PhotoSynth that stitches together many photos you have taken from one spot to create a fully immersive panorama. Splendid idea, I wish I had this at several locations in Venice!
Sorrento on the cliff, from it's Marina Piccolo:

We caught a "jet" boat to Capri, which does not appear to technically be a hydrofoil, but it is very fast. Once at Capri's marina we caught a ride up their famous funicular railway to walk around Capri town a little bit.
Funicular Railway on Capri:

We had a glorious lunch and view at Capricorno, which was perhaps the best buffalo mozzarella and tomatoes I have ever had, and excellent risotto. The Insulata Caprese did, in fact, have love basil on it too.
Gorgeous view of Capri from Capricorno restaurant:

We enjoyed a short walk through winding, twisting, pedestrian only streets of Capri before taking the funicular back down to port and the "jet" boat back to Sorrento. We caught the Sant Agnello bus from Marina Piccolo to the Sorrento train station, and a taxi back to the hotel as we were tired, but I wish we stayed on the bus. It turns out that there are public busses running right in front of our hotel to and from the town square and the harbor. I wish I'd known that sooner.
I finally dipped into the pool under the lemon tree and it felt fantastic! A great way to wash off the heat. Then I downloaded PhotoSynth from the iTunes App store and began playing with it on my iPhone.
Dinner was at Il Leone Russo again, and it was delicious again, and once more they favored us with complimentary pizza bread, and a whole bottle of limoncello that is much better than some of the other limoncellos we've had. I am becoming aware that if your party orders multiple courses, wines, and cocktails; and makes an evening of dinner and quiet conversation the staff loves you and showers you with extras; but if you try to budget only one dish each with no wine, you get perfunctory service, still good, but unremarkable. Slow down and joy life a little, and magic happens.
May 13th
As arranged, Antonio from Caruso Limo picked us up at the hotel to drive us in a mini van to Paestum and then back along the Amalfi coast. Going to Paestum we took the normal road to Pompeii and then A-3 expressway to Salerno, driving through new terrain that was visually interesting and Antonio sporadically told us a little more about the Italy he knows.
At a scenic overlook just before Salerno, we stopped and took pictures of Vietri sul Mare below us and we tried our first real panorama vista shots with PhotoSynth. I have not figured out how to share the panoramas yet, so a regular photo will have to do for now:
Antonio took us to the back gate of Paestum, where there are smaller, or in our case, no crowds and a fancy restaurant. We went into Paestum and were amazed at the site. Temples of Hera and Neptune were just inside the back gate and have remarkable structure still surviving, more than just the outer ring. Temple of Athena is a longer walk across the forum, but is also lovely and remarkable. The whole site is beautiful and peaceful, birds singing, little lizards catching bugs. I am not sure why the local signs switch between Greek names for the gods Athena and Hera, and Roman for Neptune, but they do.
I suspect our driver made a minor navigation error, because we drove back to Salerno on surface streets without finding the expressway until almost there, but we got to see industrial and rural areas of Italy we would not have seen otherwise and I was struck by the similarity of land use and basic post-war architecture that one sees in Japan and Italy.
Once through Salerno began our tour of the Amalfi coast from the van and it is stunning.
Vietri sul Mare is home to a thriving ceramics industry and so there are ceramic tiles everywhere, including the dome on the local churches all through the Amalfi region.
We diverted from the coast and began serious switch-backs to climb about 1000 feet to Ravello on the slopes of the mountains where we walked around the town square and grabbed a tourist sandwich. I did not make it to Villa Cimbrone to see the famous Belvedere because we were behind schedule already, but it is enough to have seen how lovely Ravello is.
At that elevation, looking up the valleys at whole villages perched precariously on the slopes above us in the clouds I could only think of this as an Italian Shangri-La.
The drive back down to the coast road was even more a white-knuckle ride as we had momentum behind us and we could see the huge drops involved.
Amalfi is one of the few towns where there is a small beach and perhaps a kilometer of flat space to have a town centre, and it was packed with tourists and traffic. We scurried through as fast as we could as it was mobbed.
Positano was truly stunning, and had sights I had mistaken for being in Amalfi. I wonder and marvel that people would live at such different elevations from their car, their grocer, their church, their nearest bar. You really have to think in three dimensions to get around and no map on a flat sheet of paper is sufficient to figure it out.
From Positano we saw a few more vistas of the Amalfi coast and then quickly passed over the Lattari Mountains into Piano di Sorrento and then our hotel. Antonio (aka Tony) is an excellent driver, courteous and considerate of our needs, and exceptionally alert to the traffic of both vehicles and pedestrians and even the idiots, typically on scooters, but a few times in cars, trying to make the road three lanes wide by passing where they should not and ending up facing off with a bus.
Dinner at L'Antica Trattoria was good, but two of my three dishes were overly salted, and that was a disappointment. Additionally we had a rude couple of smokers light up in the no-smoking area where we were sitting and they refused to put them out until the wait staff intervened.
Something has happened to the last 50 pictures I took with my phone on the Amalfi Coast trip… very frustrating. Hopefully these shots are clear on Sutragirl's big Canon camera.
May 14th
Slept in again, then walked around Sorrento casually. Bought linen shirts at Sartoria Saracena for both Sutragirl and myself, and lunch at Old Taverna Sorrento. Took photos from the community center overlooking the harbor. Back in the pool again for more cooling.
Went to Ristorante Pizzaria Tasso for a fabulous meal and spectacular dessert wines.
Saturday night is strolling night for Sorrento, when the main streets are closed and families stroll in the pleasantly cool evening air without concern for the traffic.
May 15th
Time to pack for travel to Rome. Caruso Limo to Naples, train to Rome.
Napoli Centrale 13:50 Eurostar AV #9526 to Roma Termini 15:00