Erci and I had a lot of fun on our recent vacation to Seattle, Portland, and Cupertino.
Seattle details after the jump…

Wednesday, November 18th:
Our first and second Virgin America flights were fun, and we had better service and more comfort than we've had on United for years. The coach seats on the A320 were only slightly wider, but that was enough to let my shoulders relax; which is a huge difference on a cross-country flight. The "VA-Red" entertainment system is sensible and easy to use and has no proprietary lock-in crap. Standard headphones plug in, standard household power plugs are available, free DISH TV and a selection of free internet content derived video is available; there are also free internet radio stations and a free selection of Virgin music to listen to. Movies and most snacks/meals/drinks are pay as you go (which seems to be a general theme for the airline), but that lets them focus on quality. The $8 cheese and fruit snack is the best meal I've had on a plane since I last flew Midwest Express (something like 15 years ago). We paid a few bucks for our one checked bag, and that pushes light travelers to do carry-on only; which means there are fewer checked bags to go through and you wait less time at the carousel. As with all small airlines, connecting flights at the same airline are essentially co-located meaning we did not have to race through miles of airport to get our connecting flight.
We stayed at the lovely Alexis Hotel (Kimpton) in downtown Seattle, half way between Pike's Place and Pioneer Square. The Alexis is a lovely hotel with a martini bar themed like a bookstore and a restaurant themed like library. Access to several bus routes is excellent and walking to many attractions is easy.
We walked around the hotel, and stumbled into Nijo Sushi Bar & Grill's 5th anniversary (partially just to get out of the wind and rain); whole 720ml bottles of saki were all half priced, and their happy hour appetizers were steeply discounted. I finally found a place that serves Kalbi (Korean short ribs) in a sauce like Harvey Yuh made when I was stationed at Hickam in the mid-1980s! I have been sampling Kalbi for decades trying to find a recipe similar to Harvey's excellent one, and this is the first time I found it! Sunomono, Poke, and Unagi were all delicious, and we left much warmer and feeling amazed at such a discovery made by chance.
While walking in the general direction of Pike's Place, just trying to stay awake for the shift to West coast time, we stumbled into World Spice Market, where we scored some excellent bulk spices, then wandered around Pike's Place Market after most shops were closed (very interesting people there after hours) and it was quiet, though we did score some tasty Chukar Cherries. We got lost trying to find a local coffee house called Local Color (which we later located), but ducked into a branch of Seattle's Best to get out of the wind and rain again, excellent haven.
Thursday, the 19th:
We started walking towards Pioneer Square but hunger and the driving wind and rain forced us to detour to Cherry Street Coffee on Cherry Street. Cherry Street turned into one of the best finds in Seattle; excellent breakfasts, excellent coffee! Beautiful heart design in my foam; yum. Fantastic. We canceled plans for Pioneer Square (mostly outdoors) due to rain and wind (umbrella busting gusts to 30 knots).
We walked around Pike's Place again, this time during the hustle and bustle of late morning; Erci had a belt made on the spot, and we had fogged in views of the West Seattle peninsula (which looked like an island in the rain and fog). Apparently the crowd we experienced is nothing like Summer and fair weather crowds, but it was plenty busy for our tastes.
Of course we made an original Starbucks pilgrim visit, and I discovered I love their warm cider (love everything about Starbucks except the coffee, but married to an addict). We stopped at Athenian for lunch (halibut po boy, Athenian seafood bowl – fabulous). Stunned by the excellent seafood in what appeared to be a simple Greek/America diner. Our next stop/rain dodge was the Seattle Art Museum (Michealangelo, Alexander Calder, visiting medieval art, and one amazing painting called "Gathering Storm" by Lin Onus). Mark picked us up and we met Burcu for dinner at Mashiko Sushi and Sashimi by Hajime Sato; wow, what an experience! This place served the best sushi I have ever had, and I lived in Japan for three years and then visited for five weeks in 2005. Thank you Hajime, Mark, and Burcu for a fabulous evening! California street in West Seattle rocks, it is a very walkable/livable neighborhood.
Friday, the 20th:
We liked Cherry Street Coffee so much, we hit the branch by the Seattle Art Museum, and it was fantastic again; this time we had a more common tulip design in our foam. Then we went next door to Ancient Grounds (coffee and antiques, kimonos, shibori scarves) and then a few doors down to a fancy Japanese Paper shop where we ended up talking to a former DC native who had moved to Seattle like Mark and Burcu and Dmitri and Michelle.
Starbucks chain stores are always handy for clean bathrooms in a pinch and mango juice. Toys in Babeland is excellent, safe adult toys, well lit, educational, nice workshop calendar, sex-positive, safety aware. We got caught in more rain walking back through main shopping district near the convention center. We enjoyed a delicious seafood (notice a theme here?) lunch at Steelhead Diner (sockeye salmon and mussels in purgatory, both fantastically delicious). The place has a fascinating bar where the bottles are lighted from below and they have fly fishing lures in glass cases as decorations.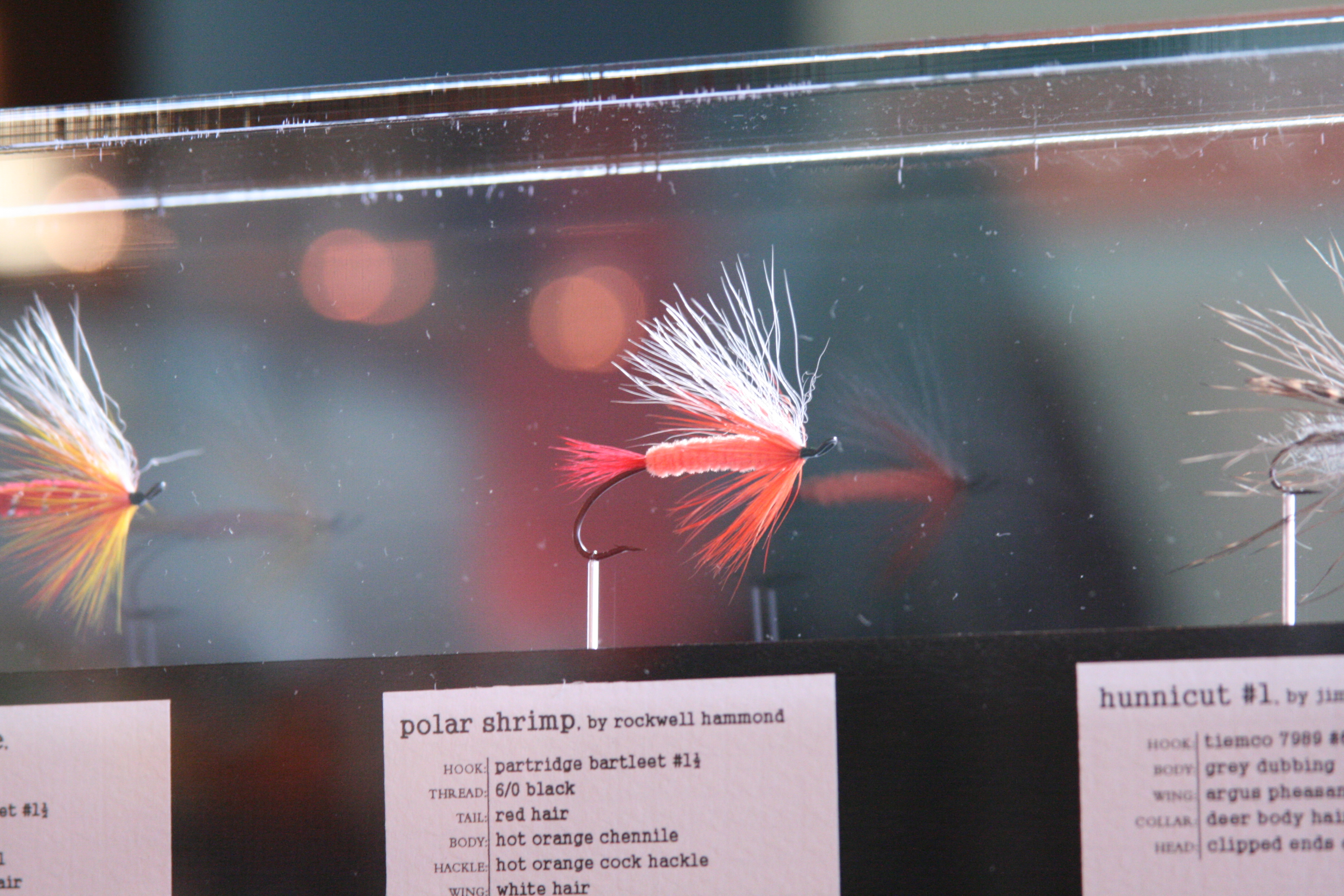 We walked around Pike's Place again (and keep finding new things), and then stopped briefly for Fran's Chocolates in the very fancy lobby of the Four Seasons Hotel, their salted caramels are simply amazing! I must order more, for I think I found a new favorite chocolate variety. After a brief rest at the hotel we had an excellent dinner with Mark and Burcu at Ray's Boathouse, again, very good seafood!
I finally realized that travel on all public transportation within the downtown zone is completely free! Damn! I wish I had figured that out earlier… the walk up the hill could have been avoided… sigh.
Saturday, the 21st:
| | | |
| --- | --- | --- |
| We had a simple breakfast in the hotel, then packed and checked out, but left our car and luggage with the hotel for later and finally caught the free bus over to the Seattle Monorail which we rode over to the Experience Music Project and Science Fiction Museum. EMP was much better than expected, the history of guitars exhibit is wonderful; the expected homage to Seattle alumni Hendrix and Nirvana are both very good, and they have the spinner (police cruiser) from Blade Runner hanging in the lobby! The SciFi Museum was better than expected too; only slightly tacky, lots of fun. Stuff from original Battlestar, Dune, Blade Runner, Trek, books, comics, a very eclectic collection. Visiting exhibit Gelatine Lux was wierd and strange and not quite as wonderful as I'd hoped, but more science fiction like than expected and lovely. | | |
We caught a bus back to hotel for free (love fare-free zones), picked up our luggage and car, and headed for Portland stopping for a quick lunch at a Red Robin somewhere near Tacoma. It was a beautiful drive through Western Washington State along I-5, and the weather gradually cleared as we left Seattle.
We both fell in love with Seattle. Excellent coffee and seafood everywhere, micro environments in each neighborhood, each with it's own vibe/feel/culture. Excellent music scene (though we did not get out at all, reading the local free papers exposed us to plenty of live music venues with shows on either side of our visit.
Despite four days of gusty driving wind and rain, never seeing any mountains at all, and completely missing Yujin (she was in Portland when we were in Seattle) and Dmitri and Michelle (they were both ill and unwilling to share the germs), we loved Seattle and could live in this amazing and interesting place. We will definitely come back to see and do more.